Tier Three​
IEP with Specialized Instruction

Functional Behavior Assessments and individual Behavior Plans

parent Collaboration and Education

Intensive Behavior Support
Tier Two
Target Social Skills Instruction

Simple Behavior Plans

Alternatives to suspension

Increased Academic Support

Classroom management Support
Tier One
Teach schoolwide positive behavioral expectations and procedures

Consistent consequences for problem behaviors

Effective procedures and supervision in non-classroom areas

Effective instruction and classroom management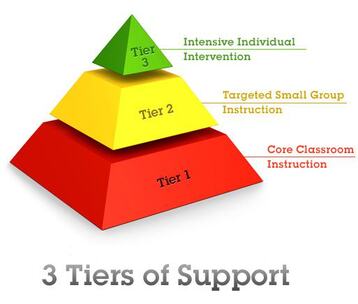 Tier Three
​IEP Specialized Instruction

Targeted Academic Instructions

Academic Accommodations

Team Taught Core

Referal for Special Ed Testing

Intensive Academic Support
​​Tier Two
SOAR to Success Program

Homework Club

Study Skills/Tracking Sheet

Parent Collaboration

Math Lab or Literacy Class

Small Group Instruction

Increased Academic Support
​Tier One
Clearly defined learning goals

Effective Multi-model Instruction

Common Core Curriculum and Assessments

Discuss students at PLC meeting to monitor progress and determine appropriate interventions based on progress
​SOAR TIME-(has been postponed due to COVID)
In the 2013-14 our school implemented a school wide intervention program called "SOAR Time" as a built in component of our daily schedule. This component ensures that every student and teacher are provided access daily to core and content areas in addition to the time to intervene academically and address the individual needs of any and every student one on one or in significantly small groups.

Teachers invite students in during SOAR TIME when they are not considered proficient on a content skill and/or students are allowed to invite themselves in to receive additional help as needed. A motivational component is also built into SOAR time as students meeting proficiency for content skills may select an enrichment activity to attend throughout the building.
The teachers rotate running interventions with students in their classrooms and running enrichment activities. This rotation provides equal time to core content areas. The activities serve as a significant motivator to student success in the classroom reducing the number of intentional non-learners and provide another avenue to address student standards and outcomes in the Utah College & Career Readiness School Counseling Program
Differentiated Interventions Support
This program is designed for students who habitually do not pass classroom formative assessments the first time because of lack of effort. This intervention program is designed to motivate students to give their best efforts every time they take a classroom assessment.
This also provides additional opportunities for students who have not shown the will to be successful to show competencies. This program also helps teachers identify if these students also do not have the skill to be successful. Finally, it helps improve the setting and atmosphere in the small group interventions being offered by classroom teachers.
This program is a single class period embedded as part of the school day and takes an elective position in a student's schedule. Based on criteria for identifying academically challenged students and specific information provided during 6th transition meetings with feeder schools counselors determine if students would benefit from this program. This class incorporates a tracking system which helps students stay organized and accountable. Students can also receive individual help as class numbers are kept to 10 or less students. This class is an invitation only through collaboration with a counselor.
Parent Teachers Association or (PTA)'s mission is to make every child's potential a reality by engaging and empowering families and communities to advocate for all children. PTA values collaboration, commitment, diversity, respect, and accountability among community stakeholders. To get involved, contact our local PTA board.
School improvement is the responsibility of everyone, from students and parents to professionals and public officials. As councils clarify roles, expectations, and responsibilities, councils increase the likelihood of all contributing significantly to this most important enterprise. School community councils are one way we can work together to make schools more successful. A council is an advisory body. All of its actions and plans are overseen by the local school board. Every public school has a school community council consisting of the principal, elected school employees and parents. Parent members must exceed the principal and staff by at least two. For more information on how to become involved in community council see an administrator.
Student Leadership Positions at ACYI include Student Council, Peer Sports Advisors and the HOPE Squad. Applicants for these positions with the exception of HOPE Squad are required to submit an application. The HOPE Squad members are chosen each school year by their peers. They help with new student orientation, prevention, student support, school-wide activities and instruction.​